http://cms.wip-news.com/news/articleView.html?idxno=8433
Trademark may be secured by utilizing first-to-file policy
2021-09-08 14:57:17 KST language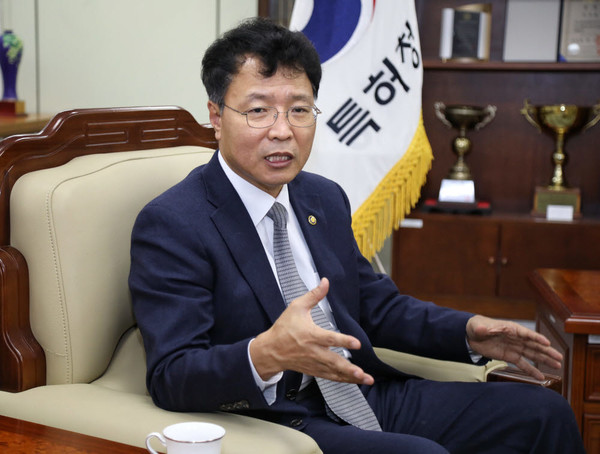 President Kim Yong-rae of KIPO [Photo provided = KIPO]
2019 November a third person applicated trademark of 'Pengsu' but the KIPO rejected the registration since they judge the intention to be impure. Also same year in January trademark of 'Boramtube' was applicated and was rejected after the actual channel owner submitted a formal objection. It is because the trademark law has its object in protecting credit and benefit of trademark users to promote develop in industry.

The Korean Intellectual Property Office (KIPO President: Kim Yong-rae) requested the utilization of the first-to-file policy to secure trademark and prevent damage from not registering trademark

Korean law ensures trademark to the first to register.

First-to-file policy refers to the law that ensures trademark to the one that has applicated first. Clause 1 of Article 8 of trademark law says that only the one that has made the application earlier may get registered.

The office stresses the importance of application to secure rights and it is safe to make it in a developmental process of a business.

The first-to-file rule has a strength in legal stability since its effect is intuitively understandable. However unregistered and preoccupied trademakrs is a problem that may not be protected by the law. Revocation trial of trademark not in use prior users right rejection of application of impure intentions are policies that mends the problem

Japan China Europe is also under the first-to-file rule due to its legal stability. Some countries like the US are using the first-to-use system.

Academic institutes legal circles and enterprises that have participated to the Trademark law forum also agreed that the first-to-file policy is better than the first-to-use policy. It has strength in expenses in management and response and somehow hinders extension in business. Experts also wanted the first-to-file policy to remain due to legal stability. Participating enterprises wanted legal supplementation such as request for injunction against infringement. They also wanted active promotion for uninformed businesses.

Park Joo-yeon Director General of Trademark Examination Policy Division of KIPO said that promotion and education about the importance of trademark application made under cooperation with local IP centers Small Enterprise and Market Service and National Tax Service. She added that thorough evaluation is made to reject impure intentions and improvements of the law to prevent abuse of rights is under examination.
Website: : http://cms.wip-news.com/news/articleView.html?idxno=8433