Synapse shows path to PTSD recovery
Professor Kaang Bong-kiun's research team of Seoul National University discovers and proves the role of memory forming synapse and published in the journal Neuron
2021-09-08 15:00:48 KST language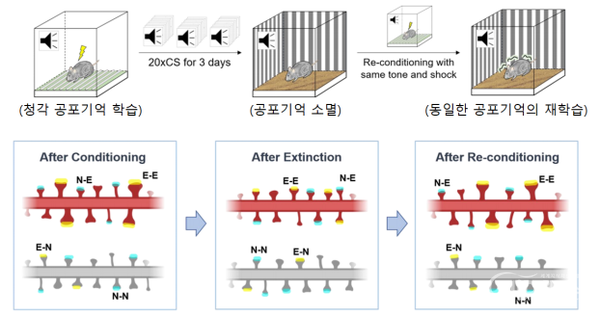 The structural change of memory storing synapse by the state of fear memory [Photo provided =MSIT]
The Ministry of Science and ICT (MSIT President: Lim Hye-sook) announced that Professor Kaang Bong-kiun's research team of Seoul National University discovered the mechanism of memory loss in a synapse level. There was a limitation of research about memory formation in synapse level but the research team discovered the fear learning process and the size alteration of synapse under fear erasure utilizing their original technology that can classify synapse types.

The research was supported by the MSIT individual basic research and the research was published in the international journal Neuron on 00:00 KST of the 7th of August. It was published in the name of 'Synaptic correlates of associative fear memory in the lateral amygdala'.

Auditory cortex and amygdala play an important role in auditory fear associative learning. Neurons become Engram cells and plays a significant role in memory formation. The connections between neurons are referred as synapse and it is the functional unit of the brain. The research team already developed Dual-eGRASP a technology that can selectively mark synapse between memory storage cells.

Amygdala refers to an almond shaped area of limbic system. It controls feelings and performs an important role in learning and forming of memories related to fear and anxiety. Engrams are neurons that stores memory.

In 2018 under support of the same project the research team already proved the hypothesis of Donald Hebb which assumed that memories are stored in synapse by discovering the memory storing synapse in hippocampus. Furthermore in this research they proved that synapse is an important unit that stores memory and a physical substance that reflects the state of memory by observing the structural change of memory synapse after creation and deletion of fear memories in amygdala.

Especially problems in the process of memory deletion may cause mental disorders like PTSD. The research may contribute to the cure of such illness by showing that phobic reactions are disappeared by appropriate deletion.

Kang said that the research about the synapse was done in an unprecedented area of brain but the cooperative attitude of the team made a substantial result. He expects that the result would contribute to improvements in treating illness such as PTSD through deletion of fear memory.
Website: : http://cms.wip-news.com/news/articleView.html?idxno=8429